The floor plan plays a crucial role in evaluating how comfortable and useful a room is when it comes to looking for the ideal place to call home. Samana Skyros at Arjan understands this sentiment and brings to you a collection of floor plans that redefine modern living. These floor plans provide something for everyone, whether you're a young professional, a couple starting a family, or someone looking to downsize. From cozy one-bedroom apartments to expansive three-bedroom units, these floor plans are a reflection of thoughtful architecture and contemporary aesthetics.
Skyros Apartments Overview
Nestled within Arjan, Dubai, are a total of 441 meticulously crafted apartments, each representing the peak of international standards when it comes to design, quality, and spaciousness. Accessibility to amenities is a key highlight, ensuring that residents can easily indulge in the comforts offered. The array of choices caters to different preferences: 178 studio apartments boast the luxury of a pool, while 4 studio apartments offer serene calm. For those seeking a one-bedroom abode, 204 apartments provide access to a pool, while 1 apartment provides a similar layout without a pool. Additionally, 49 two-bedroom apartments offer a spacious oasis with a pool view, and 5 retail apartments offer convenience within the complex. In sum, IVY Gardens stands as a testament to exceptional living with a grand total of 441 thoughtfully designed apartments.
Project detail
This distinguished property presents itself as a residential community, featuring an arrangement of 3 basements, a ground floor, and 17 upper levels. Its footprint occupies an extensive plot area of 52,511.0 square feet, while the entire building encompasses a substantial 567,432.68 square feet.
Apartement Types in Samana Skyros with floor plans
Studio without pool
4 studio apartments are available without a pool, the studio apartments in Samana Skyros have a bathroom, kitchen, balcony, and 1 bedroom and have a total of 430 to 439 square feet area.


Studio with pool
178 studio apartments available with pool, and have 1bedoom, 1 kitchen, 1 bathroom, and 1 balcony connected with private pool.


1-bedroom without pool
Only 1 apartment without a pool is available, and it has 1 bedroom with an attached bathroom, 1 living room,1 kitchen, 1 powder room, and 1 balcony.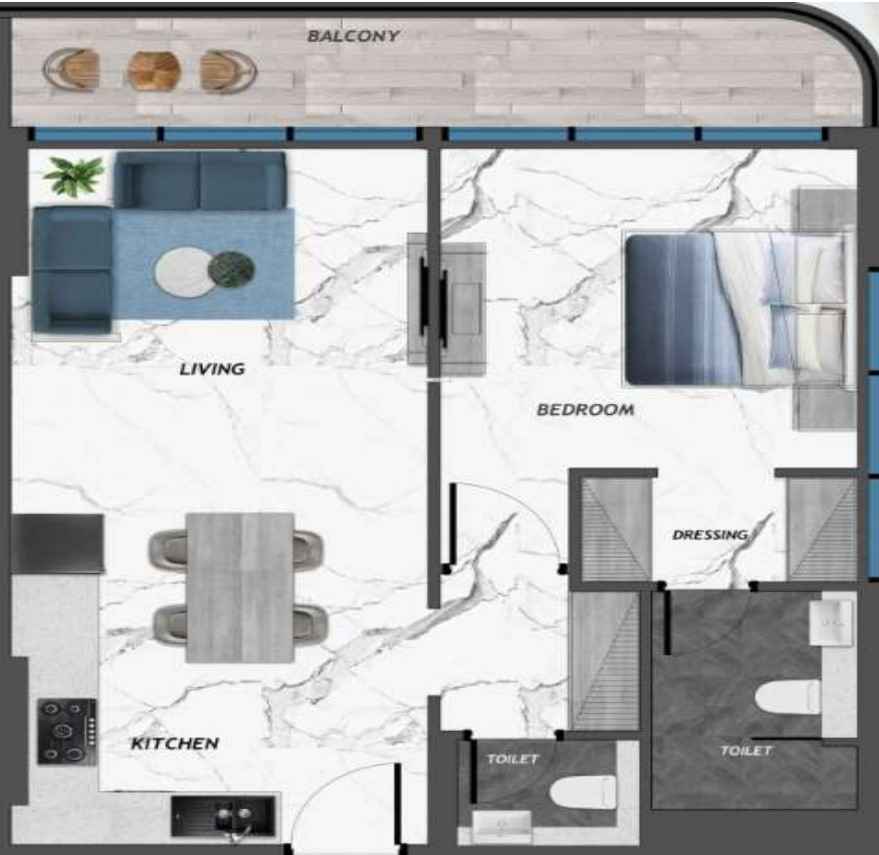 1-bedroom with pool
204 apartments with private pools available, and have 1 bedroom with attached bathroom, 1 living room,1 kitchen, 1 powder room, and 1 balcony connected with a private pool. These apartments cover an area ranging from 749 square feet to 949 square feet.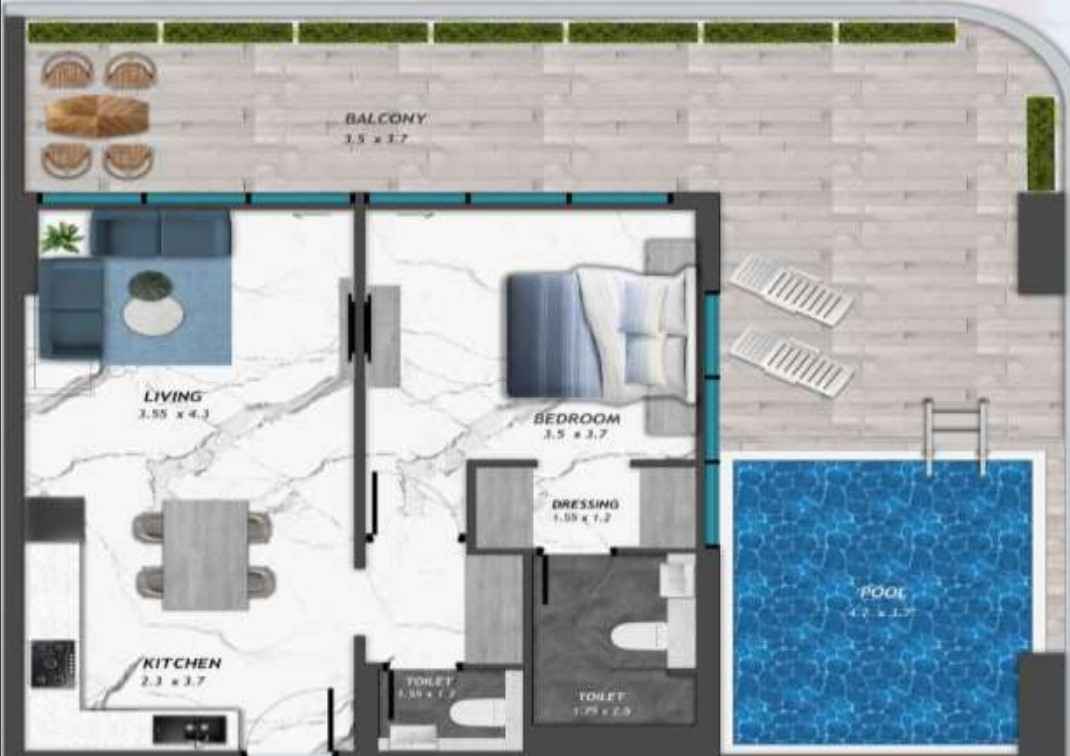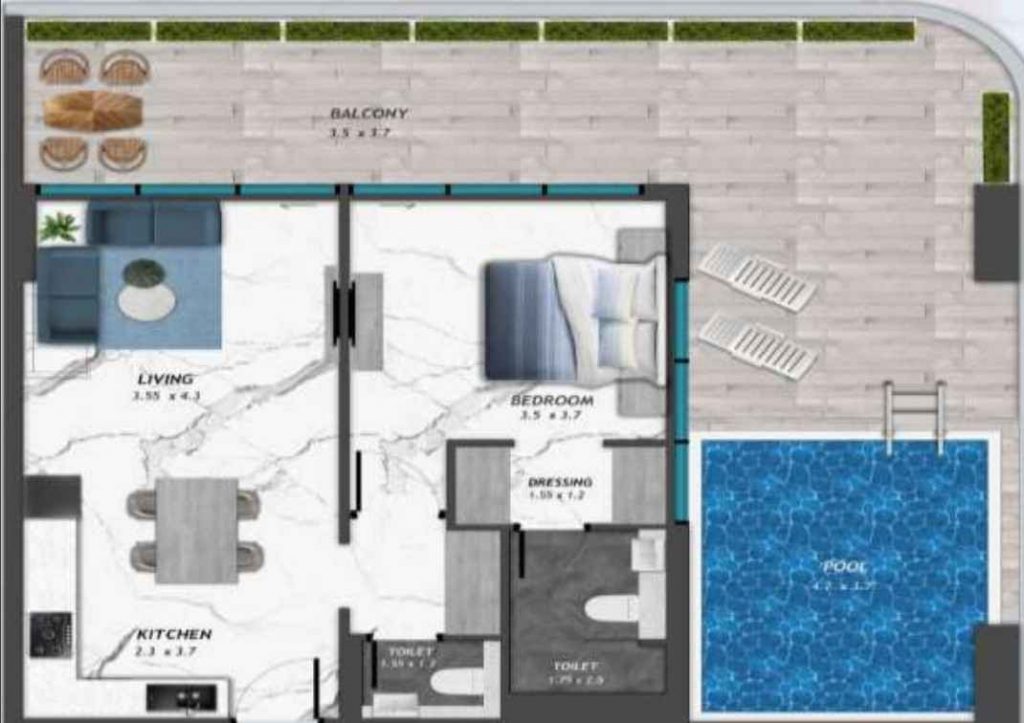 2-bedroom with pool
49 apartments with pool available at Samana Skyros having 2 bathrooms, 1 kitchen, 1 living room, and 1 balcony with private pool. These apartments cover an area ranging from 1232  square feet to 1900 square feet.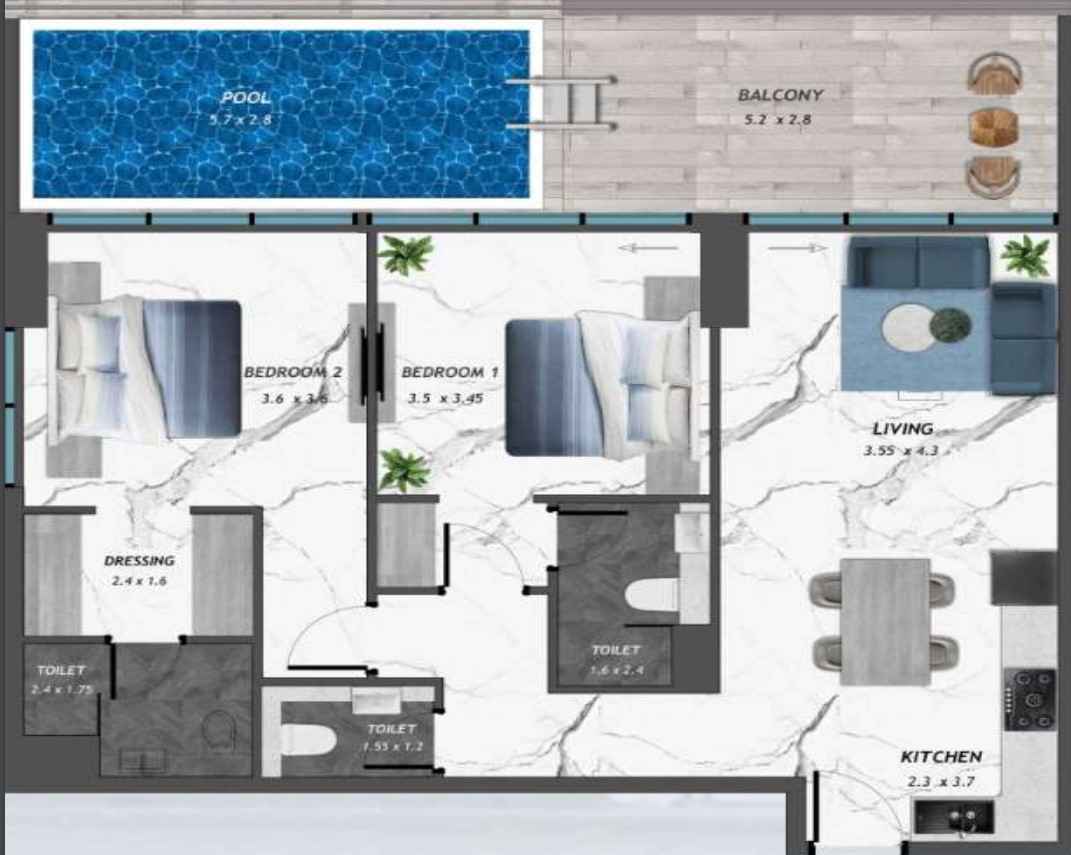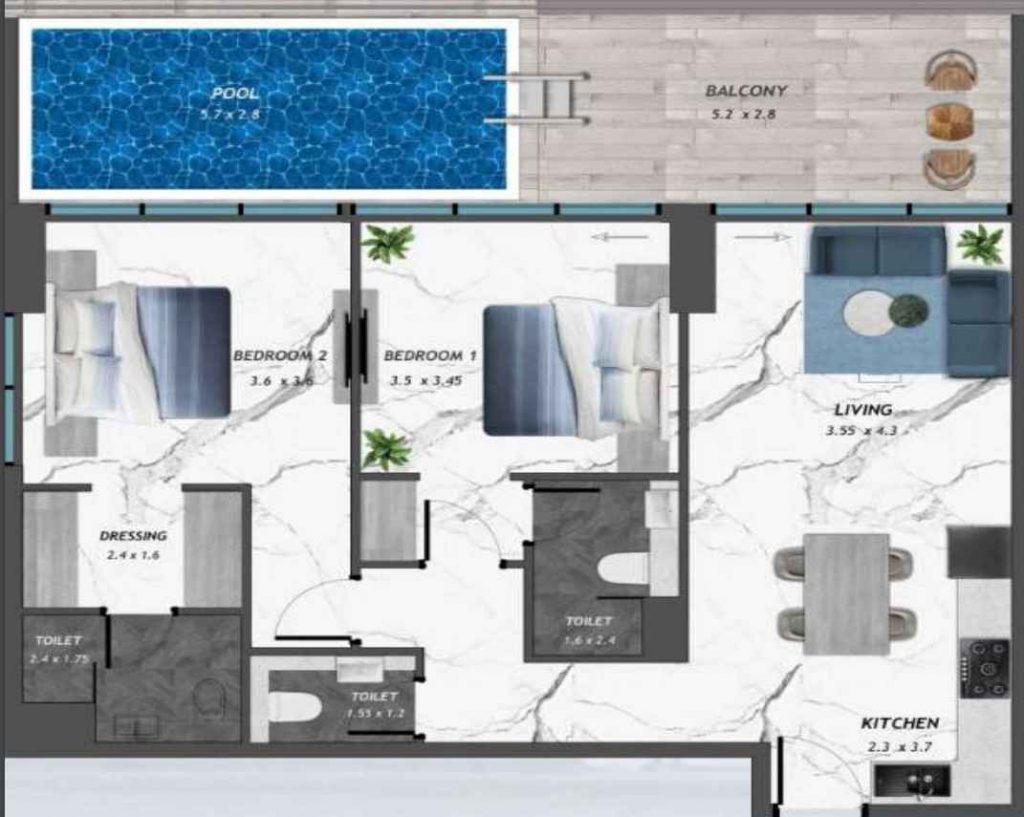 Conclusion
Samana Skyros at Arjan provides an exceptional living experience with its carefully planned floor layouts and top-notch amenities. Whether you're searching for an adorable one-bedroom getaway or a roomy three-bedroom haven, these floor plans offer proof that living in style and comfort is possible. These floor plans demonstrate that living in style and comfort is attainable, whether you're looking for a sweet one-bedroom retreat or a spacious three-bedroom haven.
Experience Samana Skyros' luxury and sophistication at Arjan. Accept a life of ease, elegance, and convenience in a neighborhood that respects your goals.
FAQs
Q: Are there different payment plans available for purchasing units at Samana Skyros?
A: Yes, Samana Skyros offers flexible payment plans to suit various preferences and budgets. Contact their sales team for more information.
Q: Are pets allowed within the community?
A: Yes, pets are welcome at Samana Skyros. The community is designed to accommodate furry family members.
Q: What sets Samana Skyros apart from other residential complexes?
A: Samana Skyros stands out for its innovative architecture with private pools, thoughtful floor plans, and premium amenities that cater to a luxurious lifestyle.
Q: Is the community easily accessible from key locations in the city?
A: Yes, Samana Skyros is strategically located, providing easy access to major highways, business districts, and entertainment hubs.
Q: Which type of apartments are available at Samana Skyros?
A: At Samana Skyros, studios, 1-bedroom and 2-bedroom apartments are available with and without pools.